Andreas Kapetanios
| | |
| --- | --- |
| Rank: | Assistant Professor (tenured) |
| Government Gazette: | 39/23-01-2018, τ. Γ΄ |
| Telephone: | +30 2661087317 |
| Email: | akapetanios@ionio.gr |
---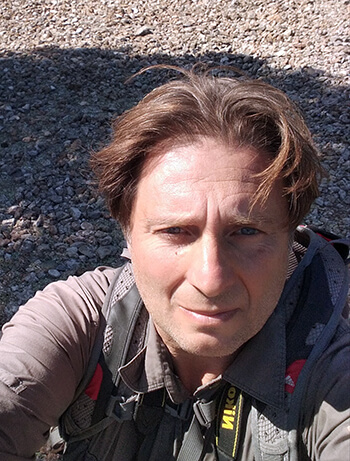 Born in Samos, in 1966, he graduated from the Arsakeion Peadagogical Academy and the National Kapodistrian University of Athens. He completed his MPhil and PhD at the University of Cambridge, undertaking a comparative research on diachronic spatial organisation and corresponding socioeconomic structures and functions in the mountainous landscapes of Crete, Ikaria and Epirus.
From 2002 to 2017, he served as an archaeologist at the Archaeological Service in East Attica. He conducted rescue excavations and surveys in the areas of Marathon, Thorikos, Lavrion, Sounion and in islands of the Argosaronic gulf. He participated in interdisciplinary research programs in Attica and in the Ionian Archipelagos. He directed the Ari archaeological survey project in East Attica, in collaboration with Rühr-Bochum University.
Current research projects include the study of ancient water-management technology in the valleys of the Lavrion metallurgical workshops, in collaboration with NTUA and NFP Democritus; the  geo-archaeological and paleo-environmental exploration of the complex valley system of the ancient Deme of Thorikos, in collaboration with NTUA;  the comprehensive publication of the excavations at the ancient theatre of Thorikos (1964-2012), in collaboration with the University of Gent; the bioarchaeological dimension of the burial landscape of the Classical Lavreotic Demes in collaboration with the Freiburg and Gent universities and the Max Planck Institute.
His research interest focuses on the systematic, interdisciplinary study of the historical landscape at East Attica and the Ionian Islands, as well as on the development of a unified approach to past societies, combining research tools of Archaeology, Ethnography - Ethnoarcheology and History.
Updated: 17-10-2022
---
Back