Athanasios Efstathiou
---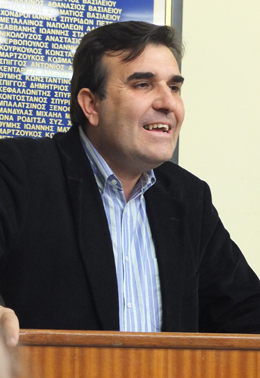 Efstathiou Athanasios: Curriculum Vitae
Size: 165.73 KB :: Type: PDF document
Born and raised in Larisa . First degree in Philology, specialization Classical Antiquity, Dept. of Philology, Univ. of Thessaloniki . Subsequently studied ancient Greek and Byzantine philology at postgraduate level, Univ. of Thessaloniki . 1992, postgraduate studies in Late Antiquity and the Byzantium, King's College, Univ. of London, followed by Ph.D. in Classical Oratory, Royal Holloway College, Univ. of London, under tutorship of Chris Carey and examined by Prof. D. MacDowell.
Since 2002, Lecturer in Ancient Greek language and literature, Dept. of History, Ionian Univ. at both graduate and postgraduate levels.
Research interests and publications centring on philological issues as well as on the history of classical antiquity, particularly on matters of oratory, rhetoric and Attic law.
Updated: 26-03-2022
---
Back